Reading
Intent statement
At North Cheam Hub, we acknowledge that inspiring a love of literacy in our pupils is important, so they fall in love with reading for life. We value reading as a vital life skill. We believe in developing a rich reading culture, by creating welcoming book areas and raising the profile of reading through a print-rich environment, attractive book displays and promoting the written word at all times.
Reading underpins children's access to the curriculum and it clearly impacts on their achievement. There is considerable research to show that children who enjoy reading and choose to read benefit not only academically, but also socially and emotionally. Reading increases children's vocabulary because they encounter words they would rarely hear or use in everyday speech. Furthermore, children who read widely and frequently also have more secure general knowledge.
This year we are launching The North Cheam Book club to nurture the love of reading.
In EYFS and KS1, we currently follow the 'Little Wandle letters and sounds revised (LWLS)' scheme. LWLS states that to be able to read, children need to be taught an efficient strategy to decode words.
In KS2, children take part in whole class reading lessons, where pupils participate in discussions around the text using an extract based approach. We explore the different reading content domains to develop reading comprehension skills.
Children read regularly at school and this helps to promote decoding, prosody and comprehension.
Implementation statement
Throughout EYFS and KS1 It is essential that children are actively taught and supported to use phonics as the only approach to decoding. Phonic decoding skills must be practised until children become automatic and fluent reading is established. Fluent decoding is only one component of reading. Comprehension skills need to be taught to enable children to make sense of what they read, build on what they already know and give them a desire to want to read.
In Key Stage Two children cover the different content domains in a whole class reading approach. There are 3 lessons a week where children focus on a specific skill e.g. inference, prediction, explaining the meaning of words in context, summarising and retrieval. We use an extract based approach which includes a variety of extracts from non-fiction, fiction and poetry. Children take part in rich text based discussions and answer reading comprehensions using a gradual release model, 'I do, we do, you do'.
Across Reception, Key Stage One and Key Stage Two children will be invited to take part in the North Cheam Hub Book Club. Children have the chance to choose reading material from class book corners, the library and from books suitable to their age and stage.
Children are able to take home a reading book to read to their parent/carer and this is recorded and checked regularly. Parents are expected to make a comment in their child's reading record on how their child has read. In KS2 children are invited to make comments on any independent reading they have completed. It is the expectation in our hub that children read at least 4 times a week.
Impact statement
Through the teaching of systematic phonics, our aim is for children to become fluent readers by the end of Key Stage One. This way, children can focus on developing their comprehension as they move through the school. Attainment in reading is measured using the statutory assessments at the end of Key Stage One and Two, as well as this, termly assessments are carried out in each year group. Attainment in phonics is measured by the Phonics Screening Test at the end of Year 1.
We firmly believe that reading is the key to all learning and so the impact of our reading curriculum goes beyond the results of the statutory assessments. We give all children the opportunity to enter the magical worlds that books open up to them. We promote reading for pleasure as part of our reading curriculum. Children are encouraged to develop their own love of genres and authors and to review their books objectively. This enhances a deep love of literature across a range of genres, cultures and styles.
Battle of the Books
Another activity we run to enrich our curriculum is a reading incentive called 'Battle of the Books'. Children from Reception to Year 6 enter the Battle of the Books. In Early Years and Key Stage One children have a list of 30 books to read in Spring Term and Summer Term. In Key Stage Two children have a list of 50 books to read throughout the year. The battle is to see who can be the first to read all of the books. The first person in each year group to read all of the books wins a prize.
These books are to be read alongside our usual school reading book. Some of the books are found in school and others you borrow from local libraries or from each other. Children collect stamps on their Battle of the Books bookmarks each time they finish a book.
There are no time limits, the children read as many as they want and take as long as they want. Good luck to all children who take part in the battle this year!
---
Reading List
LEO Virtual Library
Visit the LEO Academy Trust Virtual Library and enjoy reading or listening to a story from the selection of Children's books. There's something for everyone from Nursery through to Year 6.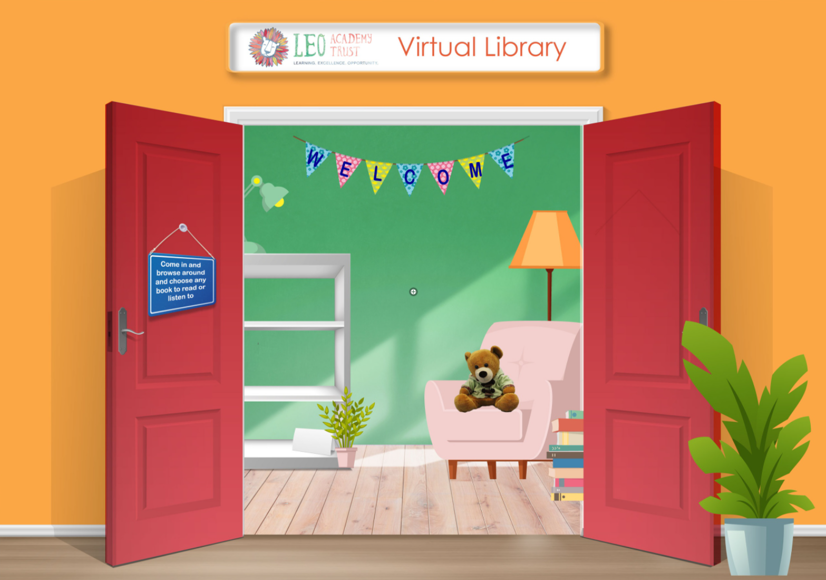 ---
English Teaching Overview
How we teach reading, writing, spelling and handwriting in Key Stage 2. Click on the link below for detailed information. There is also a link to view our Early Years Phonics workshop. The levelled reading scheme closely matches the phonics taught in school. We plan from a number of different reading schemes including:-
- Big Cat Phonics
- Read, Write Inc
- Comics for Phonics
Click below for information on the grammar terms we use in class: